Decorating your first apartment is so exciting—but it can also be daunting. Where to start? Well, now that dorm life is behind you, you'll also want to leave pin-boards, extra-long sheets, and mini-fridges in the past. Beyond those basics, there's a lot to learn. So whether you're a long-term renter who wants to make their apartment feel like a polished home or a first-time apartment dweller, you're in the right place. We compiled 24 crucial decorating lessons ranging from low-lift tips to major makeovers, all of which will ensure your first apartment looks 100 percent grown-up. But also still youthful, fun, and "you."
---
---
Approach It Holistically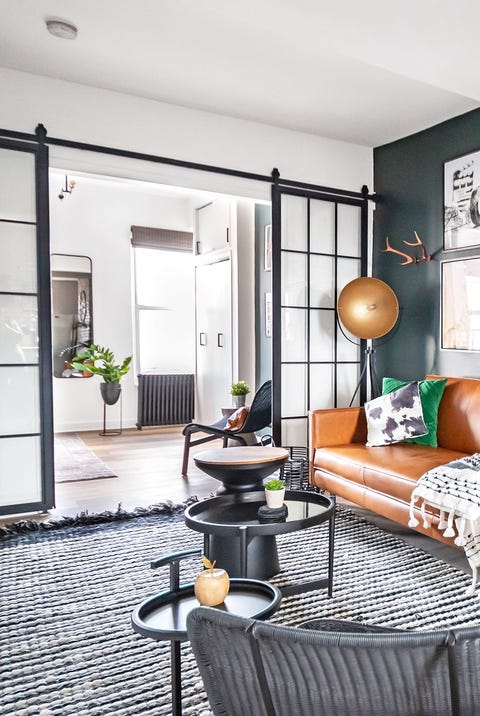 Many railroad apartments have a center, windowless room that connects the front and back rooms and relies on them for natural light. So if you want to create separate zones or extra privacy, think of a solution that doesn't create the extra problem of blocking light and flow. Here, Shari Frances did just that with frosted glass sliding barn doors. They won't block light as much as an actual door and are definitely not sound-proofed, but they will enhance privacy.
Split the Room Another Way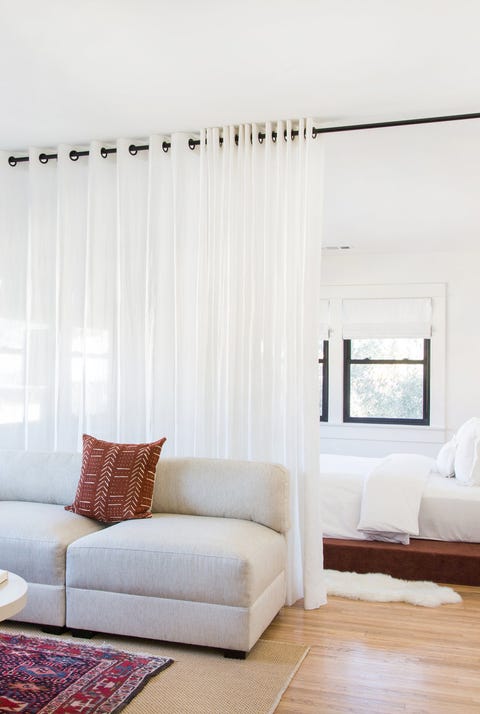 If you don't want to install sliding doors or it just isn't feasible in your apartment, consider placing a rod from wall-to-wall and then hang a separating curtain, as ETC.etera did here. In a studio, dividing your living and sleeping areas is the best way to make the place where you crash feel more like home. Get creative with room separators, opting for screens, benches, or even a tall bookcase.
Set Up an Entryway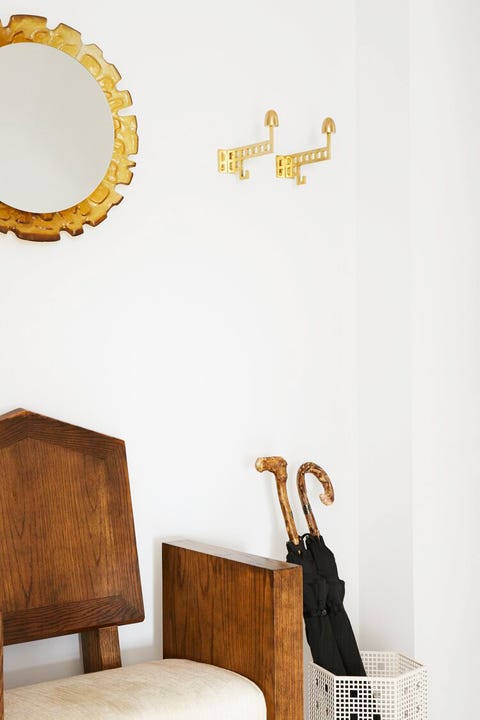 You can make a small apartment work harder with just a few stylish items. And this is especially useful in a tiny entryway. Here, Tamsin Johnson Interiors chose two sculptural hooks for coats and bags, a slim and stylish basket for umbrellas, a chic accent chair for sliding in and out of shoes, and a mirror that dresses up the wall and also allows for last-minute touchups.
Install Window Treatments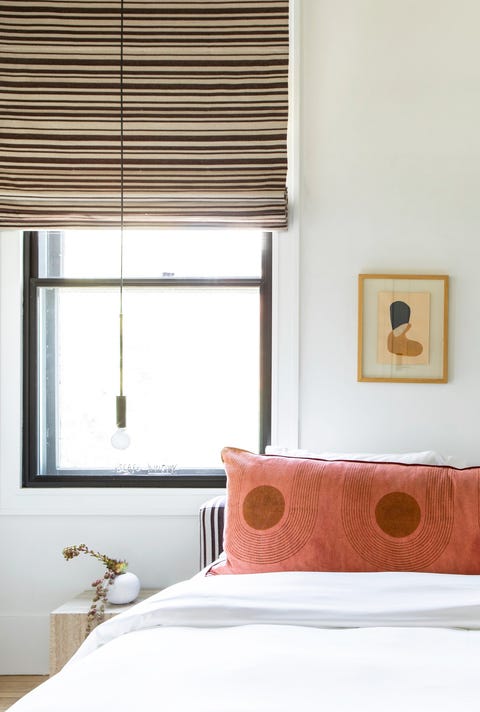 Nothing shows you're adulting like window treatments that aren't made of paper or plastic. Design firm ETC.etera opted for striped Roman shades, but flowing curtains will also do the trick. Either way, the right window treatments will make your space feel more polished (and enable you to sleep in more!).
Personalize the Bathroom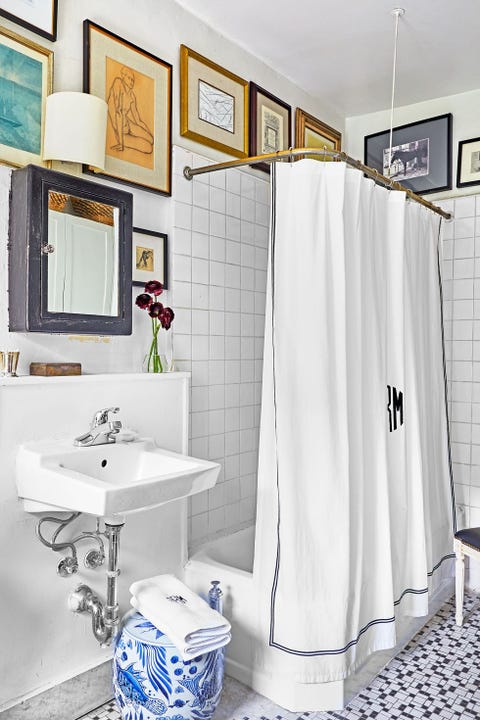 To make a rental feel more personal and homey, make your mark with a monogramed shower curtain, towels, or robe. Then add some artwork and decor to polish it off. Alexander Reid used a garden stool and filled all the blank surface space with a gallery wall.
Spruce Up the Hallways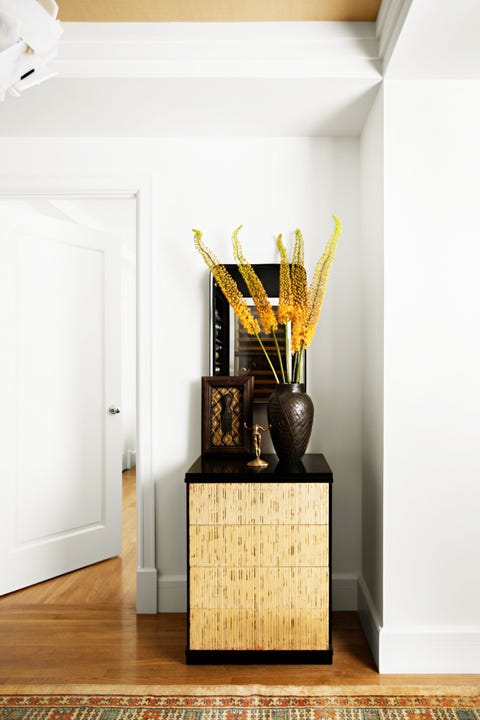 Whether your entryway is also your kitchen, living room, and basically everything but the bathroom, or you have a few awkward transitional zones like landings and hallways throughout the apartment, don't overlook those little little corners and nooks. Here, Danielle Colding chose a perfectly-sized dresser and styled it with artwork, a vase, and a mirror, all of which reflect the colors featured in the rug.
Think About How You'll Use It
The biggest mistake you can make while furnishing your first apartment is not thinking about how you actually want to live in it. So, if, for example, you work from home, establish a layout that prioritizes a home office, whether it has its own room or just a designated corner by a window, like this one in designer Krsnaa Mehta's home. Do you like to cook and eat in or host dinner parties? A big dining table that can double as a workspace during the day might be better for you.
Stock Your Kitchen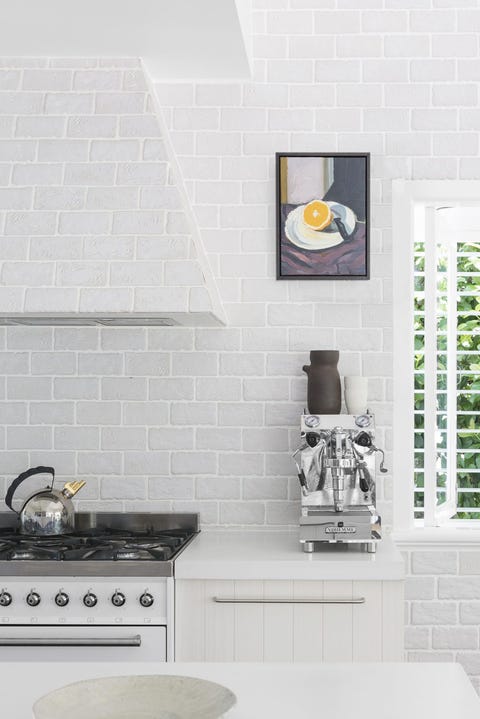 A home isn't quite a home without a well-stocked kitchen. The basic essentials include cookware, an coffee machine, a toaster, and fruit bowls, to name a few. If you have limited storage space and need to display appliances, consider investing in appliances (how pretty is this espresso machine in a kitchen by AP Design House?) that get the job done while also beautifying your countertops.
Splurge on a Headboard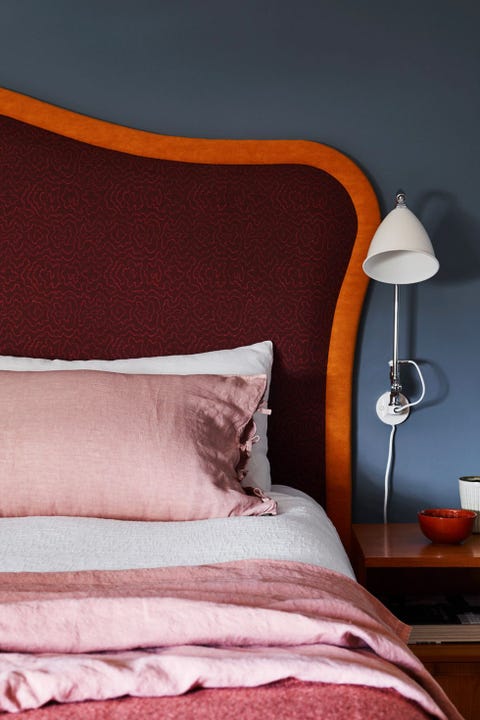 Not only will a headboard and/or bed frame serve as a focal point in your bedroom, but it'll be a major upgrade from putting your mattress directly on the floor. You'll never have to rest your head against the wall again. For some guidance, take notes from this space designed by Arent & Pyke. The curves of this headboard along with the warm, deep colors ground the room and fill it with an edgy intensity while pink linens soften things up.
Hide Furnaces and AC Units Creatively
In this living room designed by Robert McKinley Studio, the radiator is disguised by a brutalist metal cover and the occupant's magazine and book collection is neatly displayed on floating shelves. Two apartment decorating solutions in one space!
Build a Closet Out of a Nook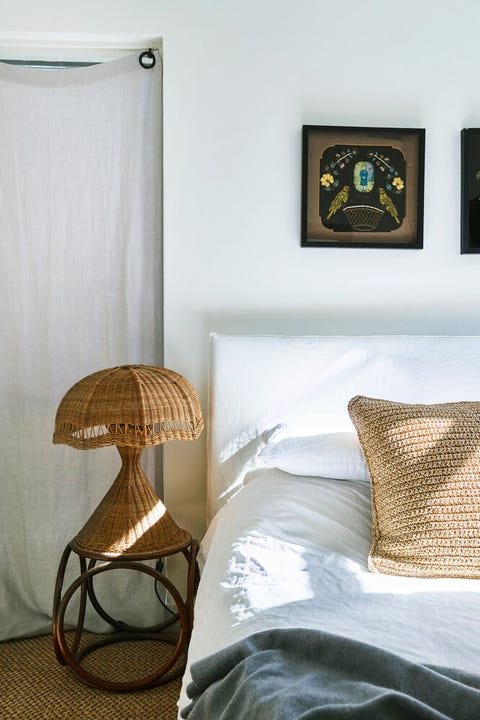 Another common issue with cramped apartments? Limited closet space. Don't let that be a dealbreaker if everything else about the space, including the price point, is right for you. There are plenty of workarounds, whether it's investing in a bed with built-in drawers as a stand-in for a dresser or creating a "closet" out of an awkward nook by hanging fabric, either from hooks or a rod over the opening to hide stored items, as Tamsin Johnson did in this bedroom.
Keep Clothing Organized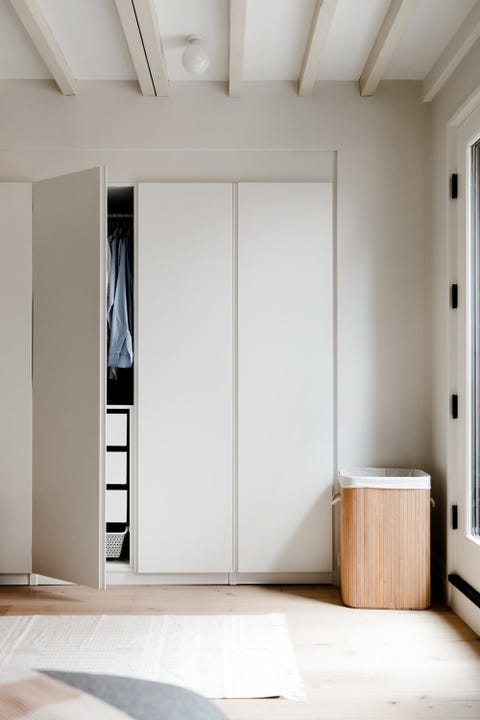 And on that note: Nothing ruins a bedroom like a bottomless pile of clothing scattered around. We, too, have our own "clothes chair" in the corner, but optimizing your closet with drawers and hangers that make it easy to stay organized will be a huge help. Here, Shapeless Studio opted for a hamper that's pretty enough to keep out in the open, too.
Swap Out Lighting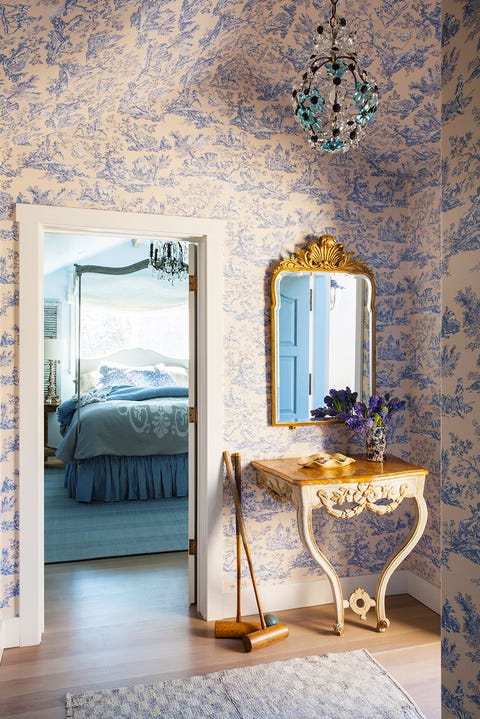 Swap out your overhead lights (especially the unsightly flush-mounts you found in the apartment when you moved in) with prettier fixtures and vintage treasures. In this hallway by Heather Hilliard, the blue crystal light makes all the difference.
Add Storage to Your Bathroom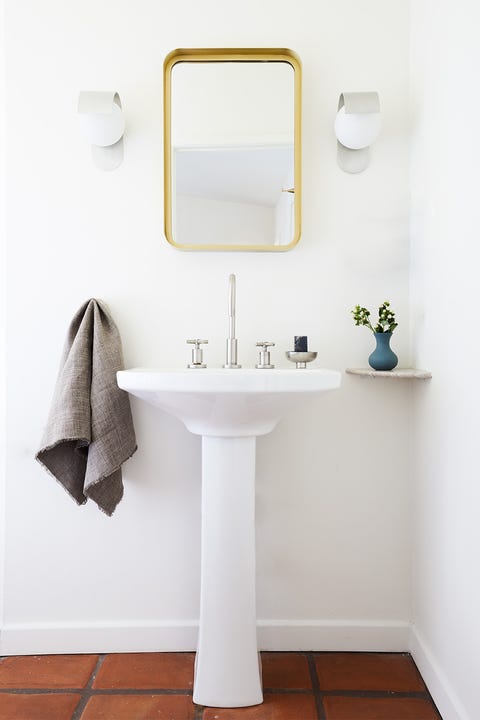 In this modestly sized powder room designed by Corinne Mathern Studios, the tiny shelf transforms an awkward corner into something chic. It's just large enough to fit a select few cosmetics or a vase with flowers. Either keep it at the same heigh as the sink, or put it right between the sink and mirror.
Find Temporary Solutions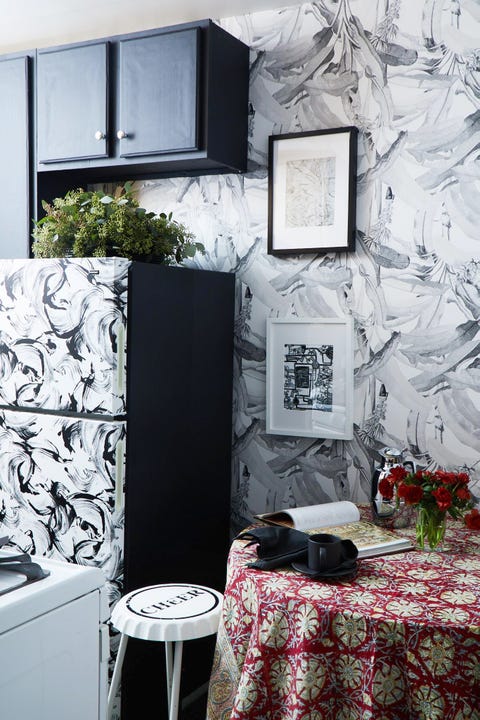 When there's limited space for extras and less room to pile in all your favorite items, you'll need to beautify everything. Here, Anthony Dunning turned a regular old refrigerator into a design opportunity by dressing it up in removable wallpaper. You could apply the same technique to anything from ugly tiles on the kitchen or bathroom floor to doors and even entire walls.
Embrace Eclectic Style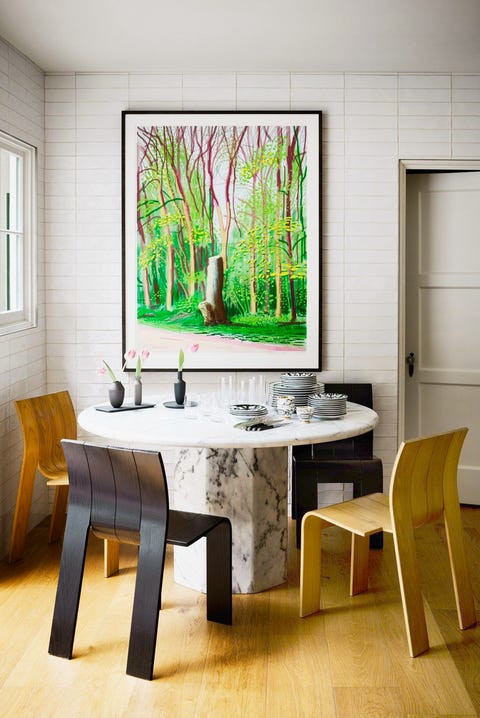 When decorating your first apartment (or second, or third, and so on), chances are, you won't stay forever. And as you hop around, you may find yourself against a variety of backdrops, from modern and bland white boxes to Spanish-style buildings to industrial spaces with exposed brick and concrete surfaces. Instead of starting from scratch each time and trying to match everything perfectly, it's okay to reuse what you already have and build up your collection gradually. Not only will this help you discover your true personal style, but it'll also create a real sense of home. If eclectic design scares you, take note from this stylish dining nook by Romanek Design Studio. The modern, casual chairs, sophisticated marble tabl,e and vibrant artwork are a perfectly imperfect team.
Get Some Art on the Walls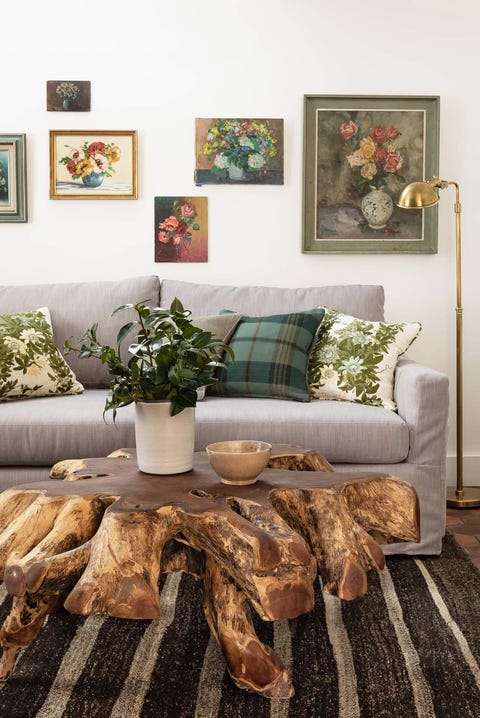 Even if you're actually ready to tackle a gallery wall (the anxiety is real), you definitely should swap out your college paraphernalia for some new artwork. You may not have the income to splurge on a statement piece or two just yet, but there are totally easy ways to DIY some wall art. When in doubt, stick to a theme.
Paint the Walls White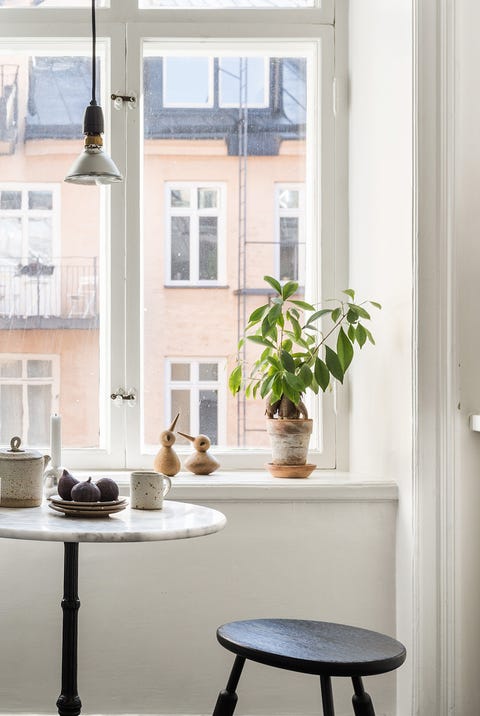 Paint can totally impact how large your space feels. A white wall color can help make your (likely) small apartment feel bigger. Or at least give you a blank slate to work with. Bonus: It's easy to paint over when you move out. You could always paint them another color, too, if you're feeling adventurous.
Choose a Fun Rug or Runner
When you have neutral staples and a smaller canvas to worth with, choose one statement item that brings in a surge of colorful energy. In this narrow kitchen designed by Romanek Design Studio, the bright and fun runner animates the entire space. Think of it as art for your floors.
Be Ready to Host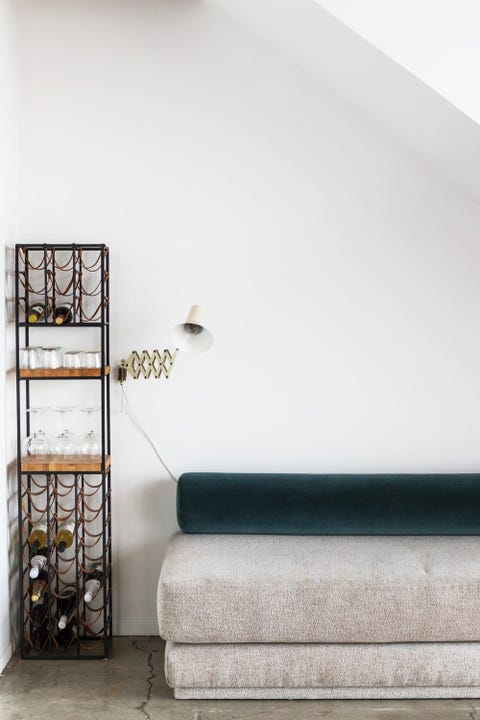 Make sure you're always ready to host by keeping a wine rack fully stocked. In this small living room designed by ETC.etera, the bar unit also livens up an empty corner.
Use Color Wisely
If you start with a neutral base then mix in color, your space will feel sophisticated, rather than childish. After all, no one wants an apartment that looks like a box of Crayolas melted all over the place. Take inspiration from this living room designed by Emily Henderson—a perfect example of colorful yet understated decorating.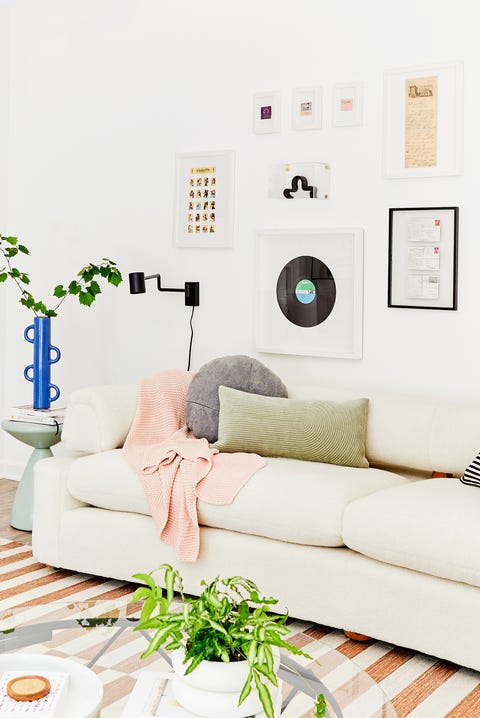 Keep Extra Seating Around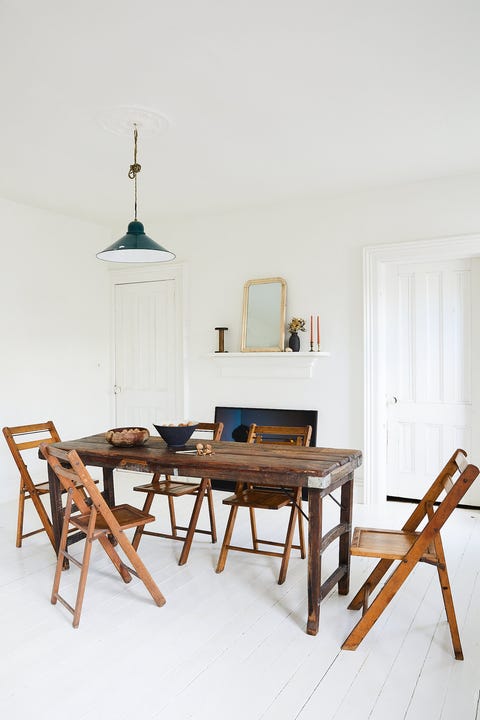 On a similar note, make sure you're always have enough seating for guests. That doesn't mean you have to spend a ton on nice dining chairs though. An eclectic array of vintage finds or some simple folding chairs will look elevated against the right backdrop.